December 29, 1998
'Peacekeeper' mourned
Family friends pay tribute to gentle man killed trying to stop bar fight
By MEGAN GILLIS -- Ottawa Sun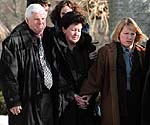 A GRIEVING Rod and Paulette Moffitt leave the funeral service in Brockville yesterday for their son Andrew, who was stabbed to death in a Sandy Hill bar last week. At right is Karen Visser, fiancee of one of Andrew's brothers. Jeff Bassett SUN



  BROCKVILLE -- Mourners packed a church here yesterday to remember a young man murdered as he tried to play the Good Samaritan.
 Andrew Moffitt, 23, was stabbed through the heart early Wednesday as he intervened in a brawl at a Sandy Hill bar. The University of Ottawa student died within an hour at hospital.
 Moffitt's aunt Lynda Smith is shocked by the sad irony of the young man's death. He survived two near-fatal heart attacks after an untreated viral infection weakened his heart in January 1997.
 "After everything he'd been through, to be stabbed through the heart," she said. "It's so unfair."
 Almost every seat was taken as grieving friends and family attended the funeral mass at St. John Bosco Parish Church yesterday. The sunlit church was still decorated for Christmas with a nativity scene and vivid poinsettias.
 Rev. John Hibbard urged mourners not to become consumed by vengeance, but to remember how the gifted, gentle young man touched their lives.
 "We find ourselves victims of violence," Hibbard said.
 "It is natural to feel anger at a time like this. But anger cannot bring healing.
 "Do not tie your lives to the fate of the person who killed Andy. As Christ forgave those who crucified him, so too we must reach out in forgiveness ... It is the only way to freedom and healing."
 Charged with second-degree murder in Moffitt's killing is University of Ottawa student Henry Roger Danninger, 26. He remains in custody and is to make another court appearance in Ottawa this morning.
 Moffitt's close-knit family is reeling with shock.
 "We want Andy to be remembered," said Moffitt's father Rod.
 "He was the peacekeeper for everybody," said his mother Paulette. "Only our faith will get us through this. We have to go on.
 "You never think the violence will hit here," she added. "You see it on television in the big cities. There were only two homicides in Ottawa in the last year."
 Moffitt was killed hours before he would have driven home to spend Christmas with his parents and his brothers Rod Jr., 27, and 11-year-old Michael.
 "We didn't have Christmas. We played it for Michael, but it was sad and empty," Paulette said.
 Moffitt's family buried him in a sweater he would have unwrapped Christmas morning and filled his coffin with personal treasures -- a stuffed animal, family photographs and his grandmother's rosary.
 Moffitt would have graduated from the University of Ottawa's computer engineering program this spring and started a job at Nortel.
 Rod Jr., a Nortel engineer, left a special tribute to his brother.
 "I gave him my engineering ring. He's wearing it right now," he said.
 "He was so close, he deserves it. He won't have a family or a career. He won't reach his goals, but we have to remember what he accomplished.
 "He was a technical genius," the Nortel engineer said. "Everyone was his friend. He loved his family. He was my best friend."
 Michael wore his brother's first communion cross.
 "I want to be just like him," he said. "We played hockey and tennis and basketball. He was great."
 Moffitt's roommate Craig Wells was with him when he was stabbed and helped carry him to his grave.
 Wells works at Coyotes Bar on Somerset St., the scene of the killing, but was off duty at the time and was celebrating the end of university exams with Moffitt and other friends.
 He called police when the brawl erupted.
 "I don't even know how I'm feeling," Wells said, numb with shock. "He was a great person -- one of my best friends."
 Violence was unknown at the popular campus bar and eatery, Wells added.
 "Probably the most violent thing that ever happened there was a dropped fork," he said.






CNEWS
Top Stories
Best photos
Tech News
Columnists
Hey Martha!
Weather
News Tickers
-- Canada
-- The West
-- Ont/Que
-- Atlantic
-- World
-- CP Business
-- Reuters Business



Subscribe online
Classifieds
Circulation
Comics
Lotteries
Weather
Crossword
Horoscopes
Editorial/letters
Susan Dewar
Police Beat
Max Haines
Travel
Tech News
Talk to us
Staff Directory

Ottawa weather
CD sales
Senators
67's
Olympiques
Lynx
TV Listings