December 24, 1998
Peacemaker slain in brawl
Young 'genius' stabbed while breaking up fight in Sandy Hill pub
By MARIA McCLINTOCK -- Ottawa Sun

  A University of Ottawa computer engineering student was stabbed through the heart trying to break up a fight in a Sandy Hill bar early yesterday, hours before he planned to drive home for Christmas.
 Andrew Moffitt, 23, who has been described as an academic "genius," was stabbed once while he was at the front door of Coyotes Bar on Somerset St. E. at about 12:40 a.m.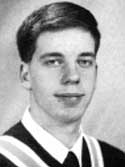 - CP photo

Andrew Moffitt


 He was dead within an hour.
 The third-year student was celebrating the last day of exams with his roommate and other friends when the tragic incident happened.
 Police said a fight broke out on the second floor of the bar while Moffitt and his friends were downstairs.
 Another confrontation began downstairs and when Moffitt tried to break it up, he was stabbed once, major crime Det. Dale Hayes said.
 His attacker then fled the bar.
 Moffitt was pronounced dead a short time later at the General site of the Ottawa Hospital.
 Moffitt's death was Ottawa-Carleton's second murder of 1998.
 About four hours later a man called 911 claiming that police may be looking for him. Officers later arrested a man on Rideau St.
 The weapon used in the attack has been not recovered, although regional police were conducting extensive searches of the area throughout the day.
 Sandy Hill resident Randy Way, who lives near the bar, returned home at 2:30 a.m. to find three police cruisers parked out front.
 "When I saw the three police cars and the yellow tape, I suspected that something serious had happened," said Way, 36, who has lived in the neighbourhood for five years.
 "It's a sad deal at Christmas that some parent, somewhere is going to get this sad message."
 Meanwhile, Moffitt's devastated mother Paulette said Brockville police officers arrived at their home at 4 a.m. to deliver the horrible news.
 "I thought maybe it was a car accident, but never this," she said, her voice choked with emotion.
 "We just hope justice prevails, because that's all that can happen. Your children aren't supposed to die before you."
 An avid golfer, Andrew was very close to his other two brothers -- Rod Jr., 27, and 11-year-old Mike.
 "The three of them e-mailed each other all the time," said Paulette.
 "He always found time for his little brother. (Mike) looked up to his brother almost more than his father, because the two could relate and Andy taught him things about the computer."
 Andrew was hoping to finish his degree early so he could start a full-time job at Nortel, where his older brother also works as an engineer.
 "It doesn't make any sense. He was a quiet person," added relative Ian Moffitt. "He was a genius. His IQ was phenomenal."
 Just last week, in the middle of exams, Moffitt drove to Brockville for his mother's birthday, a memory she's cherishing more than ever.
 "He drove in and left the same day, just to say happy birthday. That was the type of kid he was. I'm so glad he did," she said.
 Although the family is shellshocked by the tragedy, Paulette said young Mike is taking the loss of his older brother particularly hard.
 "I told him that Andy was going to be his guardian angel."
 After spending the day in Ottawa yesterday, Paulette and Rod Moffitt returned to Brockville to make their son's funeral arrangements. A service is expected to be held Monday in Brockville.
 "He's what everybody dreams of having and he was murdered. That's all you can say. We lost someone very special."
 Charged with second-degree murder is University of Ottawa student Henry Roger Danninger, 26. He was remanded in custody and will appear at a show cause hearing this morning.



CNEWS
Top Stories
Best photos
Tech News
Columnists
Hey Martha!
Weather
News Tickers
-- Canada
-- The West
-- Ont/Que
-- Atlantic
-- World
-- CP Business
-- Reuters Business



Subscribe online
Classifieds
Circulation
Comics
Lotteries
Weather
Crossword
Horoscopes
Editorial/letters
Susan Dewar
Police Beat
Max Haines
Travel
Tech News
Talk to us
Staff Directory

Ottawa weather
CD sales
Senators
67's
Olympiques
Lynx
TV Listings